Disc Golf is a game that was created in the 60's and has gone through various transformations.
These days Disc Golf is sport that is played from the very casual to top level professional athletes. Whether it be a quick round of golf during your lunch break, to a large event with hundreds of competitors.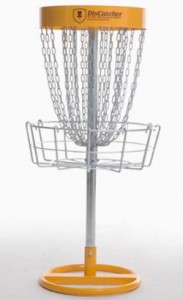 The courses have par's like traditional Golf, so each course has a par set for it. Usually over 18 holes the par can range from 54 to 72.
There are also Discs specific to the sport. These are quite different from your traditional Frisbee, with different discs being used for driving for distance, approach and putting and even curving certain ways to get around obstacles.
The game is played at an international level, with over 6000 courses world wide.
In NSW we have permanent courses from the far north to the south. These range from 9-18 holes at each park. NSW Disc Golf is assists with promoting more courses going in the ground and working on developing programs for a range of people to play the sport.
For a good intro video to Disc Golf check out the following video:
Disc Golf from Joe Canali on Vimeo.