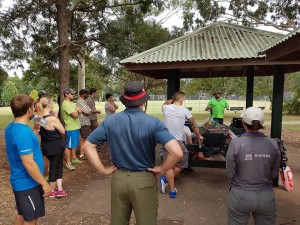 4up Report
Upjohn park greeted 23 disc golfers on a gloomy Sunday morning, the forecast promised to provide some rain later in the day.
After a brief period of setting up, the course was ready to go with 9 holes and 9 tees. Differing from previous years where multiple tees per hole were used.
The field had a smattering of the regular divisions, however Men's Novice dominated heavily with 10 players, including many who were playing in their first ever PDGA event.
Martin Ryland-Adair came in with the hot round for the morning shooting a 55 on the par 62 course, he had a 4 stroke lead over his nearest rivals.
In the Novice division Michael Nelson came in with the hot round for the morning with a 69, not bad for a guy playing in his first tournament.
After a quick break for lunch and a chance to regroup, the rain was still holding off that this point. Play restarted and the leaders of each division looking to hold on to their leads.
The rain threatened all afternoon but never really eventuated. Despite some wind picking up late afternoon, the players were able to enjoy nice conditions all day. Neil Roberts at one point tied the lead for Open after a costly mistake by Martin on hole 9, however with 4 holes to go Martin took the lead back and wouldn't relinquish that for the rest of the round. Simon would hold off his competition to take out Men's Advanced. Greg Upton overtook morning leader Ali Wood to sensationally come home with a very strong round of 60 in Intermediate. Mike Jenkins came from behind to take out Novice. Sally, Kirstin and Cameron took out their respective divisions as the sole competitors.
Full results can be seen here:
http://www.pdga.com/tour/event/26377
Kaden took out the CTP prize and Todd showed everyone how bad he really was left handed and took out the bogey prize.
Thanks to everyone for coming out Upjohn will be back next year for 5-Up, we'll see if we can get council on board to install a course at this wonderful park.
Thanks
Neil Roberts
Tournament Director