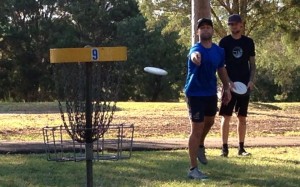 The NSW Open made a return to the Newington Armory after a 3 year hiatus. The original attendance forecast was for approximately 30 or more players, however this was well and truly exceeded with 46 players across 8 divisions.
The weather was meant to be warm and sunny most of the weekend and besides a very light sprinkle before play on Sunday morning it lived up to its expectation.
The weekend started with a bang at doubles on Friday, with 25 competitors and 32 degree heat. Patrick Robinson playing Cali came in with the early lead after 18 holes leading the field with a 42. The chase cards were Chris Finn/George Murdocca (44), Mark Strong/Rhys Kruger (46) and Rodney Weeks/Todd Nowack (46).
Chris Finn also carded a spectacular ace on the 86m hole 1 with the wind pushing his disc around.
Continuing with that good form Chris and George both managed to rein in Patrick (or was it Patricia?) during the 3 hole safari final to claim the NSW Doubles title by 1 stroke.
Round 1
Saturday morning came and the largest NSW Open field on record was eager to get started. 1st round scores showed a nice surprise at the top, with Joni Paasikallio, Chris Finn and MA1 player Simon Milliken all carding a 48 for the hot rounds of the morning.
MA2, a regular local but first time tournament player Ali Wood and Andrew Simms shot a 53 to take a decent lead into round 2.
MA4 Heino Kirschfeldt had a 3 stroke lead over Kalev-Kristjan Tamm.
MM1 Rodney Weeks had a comfortable lead over Steve Heaton
FA1 Sally Hill was playing well as the lone competitor in her division.
FA4 Monica Mills had a slender lead over Kirstin McMullan
MJ2 Will Heaton had a tidy lead over Cameron Upton.
Round 2
Saturday afternoon got nearly as warm as the Friday doubles round by the end of round 2,
MPO – Martin Ryland-Adair came storming back into contention to take a 1 stroke lead with the hot tournament round of 45. Chris Finn 1 stroke back, Joni Paasikallio 1 more and Tim Marchbank 1 more stroke again.
MA1, Simon Milliken continued his hot form taking a 3 stroke lead over Kaspar Carr-Howard.
MA2, no one was catching Ali Wood taking an 8 stroke lead into the final day.
MA4, Kalev took control with a 2 point lead over Heino
MM1 Rodney continued to dominate Masters.
FA1 Sally knew what she wanted to win.
FA4 newcomer Kirstin really stepped up and took a 1 stroke lead into the Final day.
MJ2 – Will and Cameron were tight early, but then Will pulled away to a sizeable lead by the end of the round.
Round 3
Sunday's temperature was much cooler with some water on the ground from early morning rain.
MPO – Martin played consistently and kept a 4 stroke lead going into the Finals over Joni, Chris was 1 stroke back and Tim 4 strokes back again.
MA1 – Simon played very well finishing on -15 for the tournament to take out the win. Kaspar holding on to 2nd.
MA2 – Ali finished strongly to complete the win over Andrew Simms in 2nd place.
MA4 – Kalev stayed calm and brought home the title
MM1 – Rodney completed the 3 rounds with consistent shooting to take the title back to Indonesia!
FA1 – Sally wanted that oversized bottle of wine, and nothing was going to stop her!
FA4 – Monica kept it cool and won by 8 strokes over Kirstin.
MJ2 – Will Heaton won his first NSW Open Junior title. Well played!
Finals
Joni and Chris both tried their best to reign in Martin and each had their chances, both had troubles on hole 6 and failed to capitalise. They still played brilliantly to come in 3 under during the finals, Joni especially making a 12m putt on the last hole to cement 2nd place. Martin using all his experience was able to play safe and consistently to bring home the win.
Full results can be seen on the PDGA event page:
http://www.pdga.com/tour/event/20333
Thanks to everyone who attended, next year the NSW Open will be held in Jindabyne NSW. Hope to see you there!
Neil Roberts
Tournament Director
NSW Open 2015