On the weekend of the 17th/18th of July another 9 hole course was installed at Lake Crackenback Resort halfway between Jindabyne and Thredbo.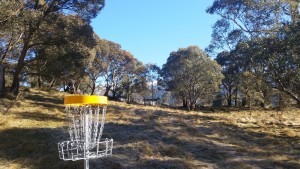 The snowy mountains area now has 2 courses, with Jindabyne completing an extension to now have 18 holes, and the newly installed Lake Crackenback rounding it out.
The course is beginner friendly whilst still giving the experienced player some fun throws. The typical Australian alpine terrain makes for fantastic scenery and some tricky obstacles.
This course will be used most regularly by resort guests which has a lot of outdoor activities. The general public will be able to play once the course has the finishing touches applied. Tee signs, cleared tee areas and a general cleanup will occur in the next couple of weeks.
A big thanks to Neil Roberts, Greg Sparksman, Scott Kneller and all the staff and owners at Lake Crackenback resort for making this happen.