If you are keen to come down to Rathmines and see what all the fuss is about, you can do so at any time over the weekend.
Its free to attend, and for a small cost we'll be running lunches and nibbles throughout the day. Not to mention there will be plenty of Disc Golf discs and related items for sale. Most of the major Disc retailers in Australia will be in attendance.
The Friday and Saturday will have play happening from about 9am-2pm. The Friday will also be the players dinner, spectators are welcome to attend. It will be held at the Catalina Bowling club in Rathmines. Cost is $20 per head includes dinner.
The finals for the event will be on the Sunday afternoon. These should kick off from about 1:30pm and go for 90 minutes or so. We've got a world class field attending this event, so you should see some great Disc Golf being played.
The map for the course is below, all play will be kicking off from Hole 1 and players will play through all 18 holes.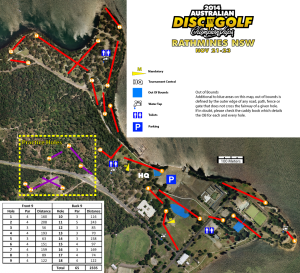 We'd be thoroughly pleased to have you come and watch the players, just a couple of things.
If you are in front of the player who is about to throw, please don't move around too much. The mental side of Disc Golf is remarkably similar to normal golf and the concentration that people use for when they throw can sometimes be quite intense. Most players don't mind if you're in their line of sight, as long as you stand still.
If a player asks you to move, please move to the side of the fairway. Sometimes a player might not feel confident if you are within their landing range. They will do their best not to hit you with a disc, but sometimes it goes wrong and a player will tell you if they feel you might be in danger from their throw. Note: sometimes players will roll the disc on the ground, and the disc will act very differently from when it is in the air.
Feel free to ask questions! We understand not everyone knows much about Disc Golf, the people out on course will be more than happy to answer your questions about how it works.
For some details on how to get to the course click here. 
If you have any questions please don't hesitate to contact the Tournament Director.